Fed Cup The Copper Box Arena
The recent Bank Holiday weekend saw the team returning to tennis, the Fed Cup by BNP Paribas World Group II Play-Off.
A win for Team GB at this event would secure a place in the elite World Group, the top 8 nations. This Play-Off was held at the Copper Box Arena, in the Queen Elizabeth Olympic Park, London, a home tie for the British team. There was a buzz in the air as crowds queued in the sunshine to attend. They may have waited a while to get into the arena, however the British team (spearheaded by British no.1 Johanna Konta) rewarded the fans by delivering a thrilling tie that culminated in a 3-1 win over Kazakhstan. The tie was sealed by rising young star Katie Boulter who fought from a set down to secure the deciding win, ending a 26-year wait for Fed Cup promotion and putting British women's tennis back amongst the world's elite.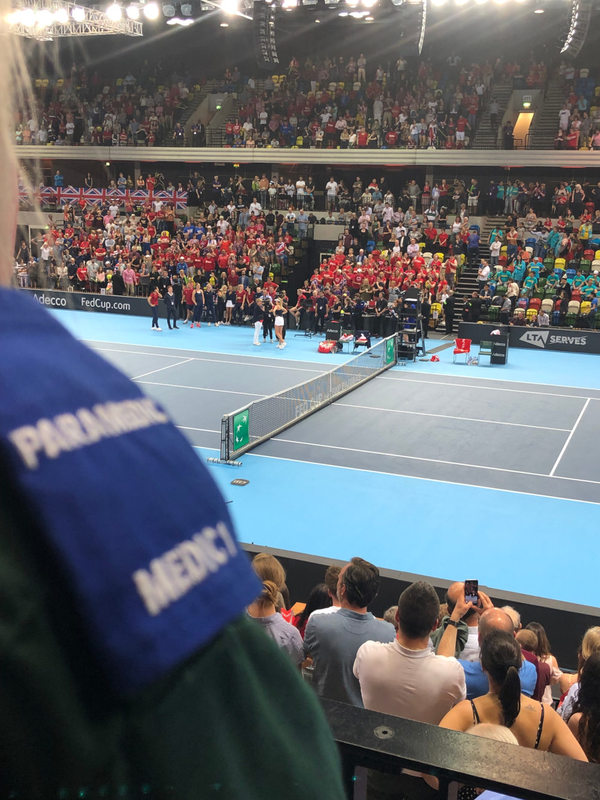 Throughout the weekend as we chatted with event visitors and staff, many asked why we were needed. Some people were surprised as it is not a dangerous sport. In fact, the event was extremely well planned and managed by all concerned. Put simply we were there to provide medical care to anyone that needed it. Throughout the weekend as play continued and excitement built up, our medics treated many people. Most of the people we cared for were seen due to sudden onset of medical conditions, such as experiencing chest pains or fainting. Fortunately, most patients were quickly assessed and treated, but a few required further emergency care and needed to be transferred in the ambulance "on blue lights" to the local hospital Emergency Department (ED).
The level of cover that we provide at events is always well thought out. Taking a number of factors into consideration, we undertake a risk assessment, and devise an event medical plan, this means that we know what resources to send, where patients need to be transferred to if unwell and what to do in a major incident.
At this event we provided a Frontline Ambulance, this is an emergency ambulance, equipped to the same level as an NHS ambulance and crewed by a paramedic and Emergency Medical Technician (EMT). To support this crew, we sent an additional EMT and advanced first aider. The benefit of having Medic 1 ambulance crews and equipment on site at events is that patients can be responded to quickly and taken to hospital if required, without the need to call in NHS crews, who we know are often working above capacity. It also reduces the workload on emergency departments and walk in centres, as experienced medics treat many people on site, often enabling them to get back to enjoying the event.
Who is looking forward to more tennis? #backthebrits #sportsmedics #Tennis #medic1
How can we help?
For more information or to request a quote please call us on 0845 00 44 999. Lines are open 09:00 to 17:30 daily.
Alternatively you can contact us at contact@medic1.co.uk or fill in the
contact form
.
Contact Us